Partner participation in the support of OLTH SA for the implementation of the actions of the European project «Port IoT for Environmental Leverage – PIXEL» (Project Grant Agreement No. 769355 financed by the Horizon 2020-MG – 2016-2017 / H2020-MG-2017). Contracting Authority: Thessaloniki Port Authority SA.
---
New Agriculture for a New Generation – Sectoral Study on the potential of Agrologistics in Greece. Sectoral study in the context of a Rutgers University grant, funded by the Stavros Niarchos Foundation.
---
The Environment, Health and Food Safety Impact of Microplastics. 2019-2022. Approved by The International Union of Pure and Applied Chemistry, (IUPAC).
Participants:
Prof Fani Sakellariadou, University of Piraeus, Greece
US EPA-OECA-OCEFT-NEIC
University of Canterbury, New Zealand
University of North Carolina, USA
City University of London,UK
Middlesex University London, UK
Russian Academy of Sciences, Russia
CSIRO Land & Water, Australia
National Tsing Hua University, Taiwan/China
University of Bari "Aldo Moro", Italy
Seoul National University, Korea
Ain Shams University, Egypt
TAHAL Consulting Eng. Ltd., Tel Aviv, Israel
Middlesex University London, UK
University of Nigeria Nsukka, Nigeria
University of Milano-Bicocca
---
Seabed mining and Blue growth: Exploring the potential of the marine mineral deposits as a sustainable source of Rare Earth Elements (MaREE) 2019-2021. Approved by The International Union of Pure and Applied Chemistry, (IUPAC)
Task Group Chair: Fani Sakellariadou
Participants:
S. Geological Survey, Pacific Coastal & Marine Science Center, Santa Cruz, CA, U.S.A.
Marine Geology Div., Geological Survey of Spain.
Dept of Economic Geology Geochemistry, National and Kapodistrian University of Athens, Greece
Dept of Mineral Resources, Geological Survey οf Sweden, Upsala, Sweden.
Geosciences Centre – Dep. Geobiology, Georg-August Universität Göttingen, Germany
---
Blue Growth Smart Adriatic Ionian S3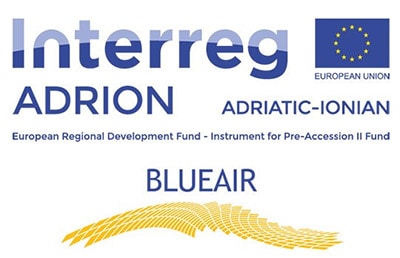 In the Adriatic-Ionian region, innovation policies for blue growth are fragmented, with more as well as less advanced regions seeking a common knowledge based approach in their innovation strategies to improve the growth of the blue sector in their territories.
Regions and countries sharing the same seas and rivers need coordinated blue growth policies to plan future innovation initiatives in areas such as maritime transport, water pollution, energy connectivity, marine environment protection, promoting sustainable tourism and others.
The goal of the BLUEAIR project (full name: Blue Growth Smart Adriatic Ionian S3) is to strengthen the institutional capacities of the ADRION (Adriatic-Ionian region) territories in the definition of a common policy of smart specialization (S3) in blue growth and guarantee compliance of local initiatives with EUSAIR strategy through the development of a macro-regional strategy for smart specialization (S3) of blue growth and the establishment of a dedicated innovation community. A coordinated approach will improve administrative capacity, innovation and economic development for the territories involved, as well as for the whole ADRION area.
Improving the competencies of innovation actors in the field of blue growth, identifying sectors of macro-regional interest, exploiting the potential for transnational cooperation, supporting the development of a single macro-regional S3 blue growth for the Adriatic-Ionian region, are goals to be achieved in defining a common strategic vision by enabling tools, capacity building initiatives and effective EDP practices and instruments. With the support of scientific experts and technical documentation, BLUEAIR offers these actors a look into the future scenarios of the blue growth sector that will allow them to take advantage of the transnational opportunities of the sector.
The main goal of the BLUE AIR project is to strengthen the institutional capacity of ADRION countries and regions in defining a common approach to the implementation of S3 policies on blue growth at the macro-regional level.
Main results of the project:
Establishment of the BLUEAIR innovation community
Increasing the knowledge of innovation actors of the macro-region in the development of S3 blue growth
Development of a comprehensive tool set for S3
Development of the Innovation Strategy of the macro-regional S3 blue growth
Action Plan for Investing in Innovation and Improving Blue Growth
As a project partner, the Croatian Chamber of Commerce is responsible for drafting the Innovation Strategy of Macroregional S3 Blue Growth and the Action Plan of Macroregional S3 Blue Growth
 Project partners:
Area Science Park, IT
Croatian Chamber of Commerce
Technology Park Ljubljana, SLO
Municipality of Izola, SLO
University of Piraeus Research Center, GR
Central Macedonia Region, GR
State Agency for Scientific Research and Innovation, AL
Technopolis Innovation and Entrepreneurship Center, Montenegro
Chamber of Commerce of Montenegro
University of Belgrade
Chamber of Commerce of the Federation of Bosnia and Herzegovina
Project duration:  01.12.2020 – 31.05.2023
Total project budget:  € 2.440.000
EU co-financing amount:  € 2.074.000
Project Partner: Professor Maria Boile
Find out more about the project
---
'Sectoral Study on the potential of Agrologistics in Greece'   Funded by the Stavros Niarchos Foundation through the New Agriculture New Generation Program (2019 – 2020)
https://www.generationag.org/sxetika-me-emas/bibliothhkh/kladikes-meletes
The objective of the Sectoral Study on the potential of Agrologisticts in Greece is threefold. The study aims to: (a) examine the level of development of the sector now and in the future; (b) evaluate the potential of developing a network of Agrologistics hubs in the country with a focus on the development of an Agrologistics Center in the region of Thessaloniki; (c) identify skills gaps and shortages in the agribusiness industry, assess the sector's attractiveness for young professionals and produce recommendations for the creation of an Agrosynergy training program to support the sector's further development.
https://gr.usembassy.gov/dcm-david-burgers-remarks-at-agrologistics-in-greece-challenges-and-opportunities/
---
'Support to ThPA S.A. in the implementation of the activities of the European Project Port IoT for environmental Leverage – PIXEL (Project Grant Agreement Nr 769355 financed by the Program Horizon 2020-MG-2016-2017 / H2020-MG-2017). Funded by ThPA S.A., PIXEL project partner, through the PIXEL Project (2019-2020)
https://www.thpa.gr/index.php/en/various-news/112-company-en-gb/growth
Support services to ThPA S.A. for the implementation of activities related to: (a) development of a port environmental index, (b) pilot tests – integration, development and evaluation, (c) evaluation and further development plan, and (d) exploitation, dissemination and communication, in the context of the ThPA S.A. participation in the Port IoT for environmental leverage – PIXEL project. PIXEL enhances the cooperation among ports, cities, and multimodal transport systems with the aim of optimal resource management, sustainable economic development and environmental impact mitigation, with a vision towards the port of the future.
---
Study on the Capacity for Greening of European Sea Ports' European Commission MOVE-OP-2020-000017-MOVE/D3/FV2020-779 (2021-2023)
https://etendering.ted.europa.eu/cft/cft-display.html?cftId=7546
The study will identify (a) the adverse environmental effects pertaining to ports, (b) the legislation and policies addressing them and which are not addressed and (c) the impediments for ports in pursuing green objectives. It will also present good practices from authorities in terms of policies and incentives aiding in attaining green objectives by ports as well as good practices from ports in pursuing economic development paired with green objectives. The study will also aid in knowledge sharing and identification of the tools in pursuing green objectives so that other ports can adjust and apply them to their own specificities.The study will encompass extensive desk research on legislation, policies, measures and practices on improving environmental factors and impediments in achieving so. It would also require communication and cooperation with Member States and industry associations as well as entity stakeholders for obtaining the feedback and proceed to analysis.
https://white-research.eu/white-research-participates-in-eu-project-to-investigate-the-greening-of-seaports/
---
'Blue Growth Smart Adriatic Ionian S3 – BLUEAIR' Interreg V-B Adriatic-Ionian ADRION Programme 2014-2020. (2020-2023)
https://blueair.adrioninterreg.eu/
In the Adriatic-Ionian regions Blue Growth Innovation policies are characterized by a fragmented situation, with pioneering and lagging regions searching for a joint knowledge-based approach to their innovation strategies to enhance the blue growth sectors in their territories. Through the development of a Macro-Regional S3 on Blue Growth and the setting up of a dedicated Innovation Community, BLUEAIR aims at enhancing institutional capacities of ADRION territories in the definition of a common S3 policy on Blue Growth and guaranteeing the alignment of local initiatives with the EUSAIR strategy.
---
World Ports Tracker (2022-  ). Scientific Director A. Pallis (with T.E. Notteboom). International Association of Ports and Harbors (IAPH).
---
Μeasuring the socio-economic impact of cruise in Thessaloniki (2022-2023). Thessaloniki Port Authority SA & Tourism Board of Thessaloniki.
---
Economic and Maritime Links between Greece and Panama (2022). To Diktyo-Network for Port Reform in Greece and Europe.
---
Transport and Trade Connectivity in the age of pandemics (2020-21). Trade Logistics Branch, Division on Technology & Logistics United Nations Committee on Trade and Development (UNCTAD), United Nations.
---
Evaluation of the Greek Regulatory Authority for Ports (2021).Scientific Director A. Pallis.  Regulatory Authority for Ports, Greece.
---
Developing a Strategy for Marinas in Greece (2021). Scientific Director A. Pallis. DiaNeosis Think Tank, Greece.
---
COVID-19 Economic Impact Barometer (2020). Scientific Director A. Pallis (with T.E. Notteboom). International Association of Ports and Harbors (IAPH).
---
Intelligent Research Infrastructure for Shipping, Supply Chain, Transport and Logistics Plus (ENIRISST+) (2020-21). European Regional Development Fund.
---
Institutional reform of the Colombian port system (2020). Ministry of Transport, Colombia.
---
Supporting maritime spatial Planning in the Eastern Mediterranean (SUPREME), Co-funded by the EC – DG Maritime Affairs and Fisheries (DG MARE) Call for Proposal, Duration (in months): 24 months, January 2017 – December 2018. http://www.msp-supreme.eu
---
Decision Optimization Platform of Ship's Life Cycle (OptiShip), Co-funded by the European Commission and the Hellenic Programme of Structural Funds, Duration: 18 months (01/06/2022 – 30/11/2023) https://optiship.eu/node/11