The Laboratory of Quantitative Analysis in Shipping of the Department of Maritime Studies of the University of Piraeus, in the framework of its research activity has acquired equipment of value more than one million euros that includes: autonomous vessel, Drone system, and remote underwater inspection robot. GlobalSim, a company with an international presence on 6 continents that has manufactured some of the largest and most realistic crane simulators in the world, has provided training simulator equipment including a full-mission simulator, autonomous Ro-Ro simulator, trainer's station as well as software models and controls.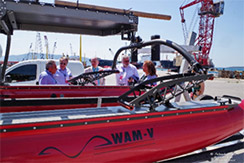 More specifically, the autonomous vessel (WAM-V 16 ASV) is characterized as one of the most stable vessels in its class, with easy portability and flexibility, making it useful in applications such as marine surveys, defense, and maritime security, as well as research and development in the field of robotics.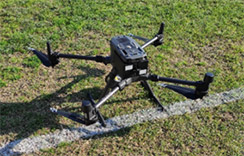 The quadcopter drone system (MATRICE 300 RTK) is the newest commercial drone platform inspired by modern aviation systems, offering artificial intelligence capabilities for more than 55 minutes of flight. It can find application in firefighting, in search and rescue, in control of legislative applications, and in research in power supply systems and gas or oil pipelines.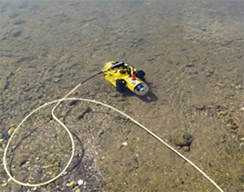 The remote underwater inspection robot (Guardian Mini-ROV), with 4 horizontal and 1 vertical thrusters, has 2 high-definition color video cameras, with LED lighting, so that it is suitable for long-range missions, more than 400 meters.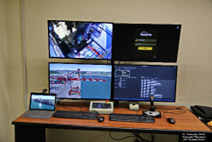 A key element of the training simulator system is the trainer's station. Instructors and observers can monitor a learner's actions in the simulator, under different scenarios, as the learning environment can be completely controlled.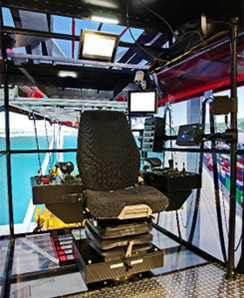 The full mission simulator is designed to train students in many types of equipment. The training is specially designed and equipped with seven screens, a pilot chair, and authentic systems, so that it looks exactly like the size and layout of the actual pilot cabin. Software models include various types of equipment: ship loading and unloading cranes, rail stacking cranes, container transport stacking truck, forklift, Ro-Ro functions, and automated operation scenarios.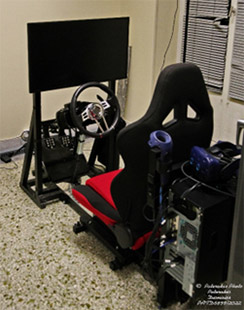 Particularly, the autonomous Ro-Ro simulator, through virtual reality, provides the ability to simulate the ship, the 3D display inside and outside as of her, as well as in processes such as loading and unloading cargo. In the specially designed script editor, the instructor, in all the above models, can control factors such as time of the day, visibility, wind, and other weather conditions, while the script can be supplemented with additional parameters such as ships, cranes, pedestrians, and cargoes.
The results of the use of the above equipment, once again confirm the position of the Department of Maritime Studies, in terms of its contribution to the education of young people with high professional training in the field of shipping, as well as the provision of high-quality research by our laboratory.