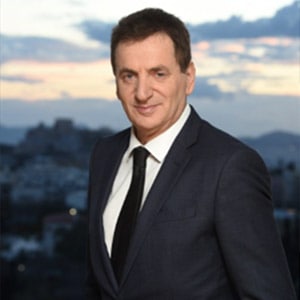 CEO Arcadia Shipmanagement & Aegean Bulk
Chairman Green Award Foundation
Vice Chairman INTERTANKO Hellenic Medditerannean Panel
Council Member INTERTANKO
Executive Committee Member INTERCARGO
Executive Committee Member Norwegian Hull Club, HELMEPA, ALBA
Governor International Propeller Club of the United States
Guest Lecturer Academic Institutions (Piraeus Maritime University, Aristotle University of Thessaloniki, ALBA, Metropolitan College)
Personal Awards:
Exceptional Personality of Shipping/ Vaporia Marine Awards
Best Manager of the Year/ Efkranti Awards
Personality of the Year/ GREEN4SEA Awards
Personality of the Year/ Masters & Mates Union of Greek Merchant Marine
"Leading through Vision. Inspiring through Actions."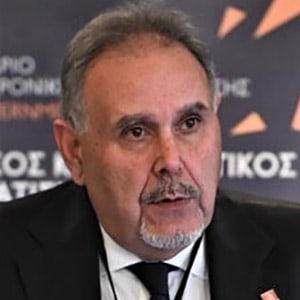 Nicholas Rodopoulos (M.Sc.) is President and Managing Director of OnLine Data SA, President of the Hellenic Logistics Association, Member of the National Council for Logistics Development of the Ministry of Economy and Development, President of the Oinofyta  Logistics Business Park SA, Scientific Advisor of the Piraeus Chamber of Commerce and Industry (EVEP), Scientific Advisor of the EXANTAS Training Institute, Member of the General Council of the Hellenic Federation of Enterprises (SEV), Member of the Attica – Piraeus Federation of Industries (SVAP), Member of the Federation of Hellenic Information technology and Telecommunication Enterprises (SEPE).
He has also served as: Member of the Steering Committee of National Technical University of Athens (NTUA) for the creation of the postgraduate Department "Port Management", Member of the Steering Committee of Athens University of Economics and Business for the "Executive Program in Logistics Innovation". He Is also a member of the Ministry of Transport and Infrastructure working groups as an expert for the implementation of the Logistics Action Plan for "Agrologistics", "Intelligent Transport Systems", "Logistics Digitalization", "Definition of Governance concerning Logistics in the Public Sector".
He is a writer and has a significant number of articles in the daily and magazine, economic and political press.
https://eel.gr/en/nikolaos-rodopoylos-proedros-dioikitikoy-symvoylioy-eel/